By Piers Morgan, CNN
December 20, 2012 -- Updated 1627 GMT (0027 HKT)
STORY HIGHLIGHTS
Piers Morgan: Past gun-related tragedies haven't led to any action


He says that must change, and he hosted a debate on the issue


Morgan: Laws must be changed to limit weapons, ammunition and enforce background checks


Rights of Americans who use guns for hunting and sport must be respected, he says



(CNN) -- On Wednesday night, I hosted a town hall-style debate on guns in America, talking to lawmakers, mass shooting survivors, lawyers, gun lobbyists -- anyone, basically, who has a strong opinion about what I consider to be the single biggest issue facing America today.
Since I joined CNN two years ago, there have been a series of gun-related tragedies, including the attack on U.S. Rep. Gabrielle Giffords and the Aurora, Colorado, movie theater massacre.
Each sparked a short-term debate about guns. Yet each debate fizzled out with zero action being taken to try and curb the use of deadly weapons on the streets of America.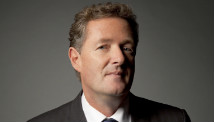 Piers Morgan
Now, following the grotesque slaughter of 20 innocent young children at Sandy Hook Elementary School in Newtown, Connecticut, I sense that the mood has changed.
We have reached a crucial moment in this debate, and I intend to use my platform to continue this conversation on Wednesday night and going forward. The media have previously been quick to move on to other stories after these tragic acts of gun violence. That must change.
Opinion: Don't let this moment pass without acting on gun control
I've made my own views clear on my show -- the senseless killing has to stop. High-powered assault rifles of the type used at Aurora and Newtown belong in the military and police, not in civilian hands. High-capacity magazines, too, should be banned. And background checks on anyone buying guns in America should be comprehensive and stringently enforced.
As President Barack Obama said, doing nothing is no longer an option.
But, at the same time, law-abiding Americans who want to protect themselves under the Second Amendment right to bear arms must be respected. As should the rights of Americans to use guns for hunting and sport.
This is a vital debate for the country. Some 12,000 people are murdered in the United States with guns every year, compared with just 35 in Britain, where there are strong gun laws.
Analysis: Guns and the law
Sandy Hook should, and must, be a tipping point for real action to bring this number down.
Follow @CNNOpinion on Twitter.
Join us at Facebook/CNNOpinion.
The opinions expressed in this commentary are solely those of Piers Morgan.
Watch Piers Morgan Tonight weeknights 9 p.m. ET. For the latest from Piers Morgan click here.
Part of complete coverage on

December 20, 2012 -- Updated 1441 GMT (2241 HKT)

Howard Kurtz says reporters should stay on the story and the issues it raises.

December 20, 2012 -- Updated 1313 GMT (2113 HKT)

Douglas Rushkoff says our first instinct is to protest Instagram's new terms of service, but we should realize that Facebook paid a billion dollars for the site and needs to earn money in return.

December 19, 2012 -- Updated 2057 GMT (0457 HKT)

LZ Granderson says allowing concealed weapons in places like schools and churches would just result in more tragedy, not less.

December 19, 2012 -- Updated 2054 GMT (0454 HKT)

William Bennett says having armed and trained people could help protect schools and other vulnerable places from gun violence
Get the latest opinion and analysis from CNN's columnists and contributors.

December 19, 2012 -- Updated 1544 GMT (2344 HKT)

Rebecca Buckwalter-Poza says the vice president, who shepherded the 1994 Violent Crime Control and Law Enforcement Act through the Senate, is the right man to lead new gun control efforts.

December 19, 2012 -- Updated 1711 GMT (0111 HKT)

Ruben Navarrette says with their many demands, many of the young undocumented immigrants brought here as kids are turning people against them, hurting the chances for broad immigration reform

December 19, 2012 -- Updated 1406 GMT (2206 HKT)

Van Jones says artists have gotten together to expose the fiscal cliff as a crisis manufactured to justify cuts in essential programs.

December 19, 2012 -- Updated 1933 GMT (0333 HKT)

James Garbarino says troubled, lonely boys view the world as hostile, and think their culture condones the use of violence to solve problems

December 19, 2012 -- Updated 1438 GMT (2238 HKT)

Lori Haas says our elected leaders have abandoned all sense of right and wrong despite epidemic deaths from guns.

December 18, 2012 -- Updated 1635 GMT (0035 HKT)

Edward Mulvey says we cannot tell which one of the thousands and thousands of young men who are quiet or withdrawn will be a killer.

December 18, 2012 -- Updated 1757 GMT (0157 HKT)

Deepak Chopra says if we stay glued to the media and relive Newtown over and over in our minds, we work against the healing process.

December 19, 2012 -- Updated 1423 GMT (2223 HKT)

Peter Bergen says gun violence claims proportionately more civilian lives in some U.S. cities than the civilian toll of the Afghan war.